The Bizlearn NX Rapid Basics e-learning is aimed equally at CAD system switchers and CAD beginners. The course conveys the subject areas of assemblies, sketches, volume construction and drawing creation. A proper methodology that complies with construction guidelines is the constant focus!
Training content
Gateway / modeling / drafting apps
Construction methodology
Correct application of Selection Rules
Copy and paste features
Create / edit Solid Models
Create / modify shape features
Basics of custom shape features
Applying parametric construction
Part organization with layers, etc.
Sketches, parametric construction
Constructing / navigating in Assemblies
Reference sets and loading options
Info and analysis functions
Create Drawings
Creating and editing views
Dimensions and symbols
Our recommendation: NX Basic design bundle

The NX Basic Design Bundle gives you the perfect introduction to the design world of Siemens NX. In addition to the entry-level courses Rapid Basics I + II we bring you the new intelligent one Sketch Solver closer. You will also learn ours right from the start NX CAD Secrets know. They secure the basis for successful workflows for you. Because you should not only learn what the tools are called, but above all how you can use them specifically for a wide variety of purposes.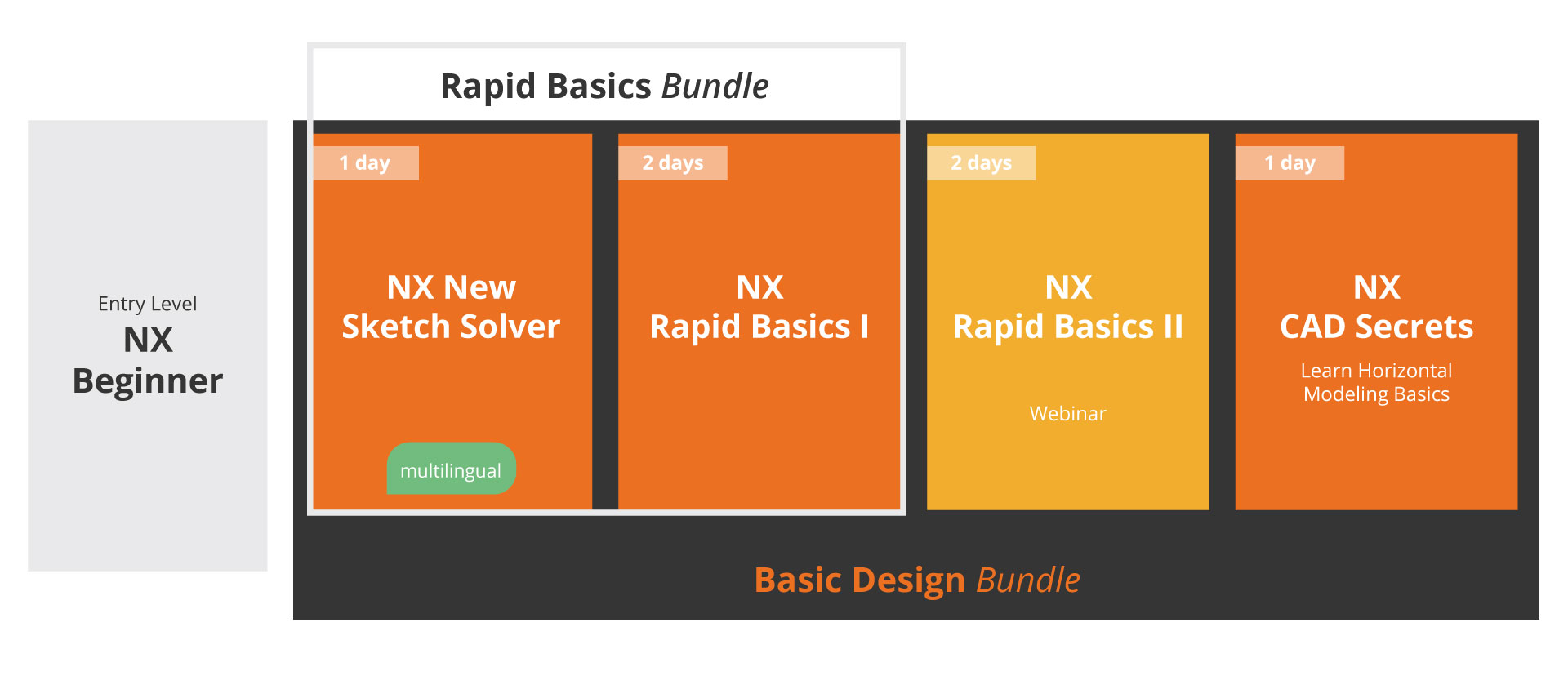 The participant can control the learning speed himself. All learning units are appropriately filtered by a role system. Each participant only learns the chapters that are useful for their assigned role. This avoids unnecessary learning effort and redundancies.
Every participant is supported live through a Online supporter. Likewise will be Submission tasks live discussed in a webinar. The NX trainer gives individual feedback related to the respective submission task. Because training participants are always accompanied constructively during training and a constant care by an experienced NX and Teamcenter trainer takes place, e-learning becomes dynamic blended learning.
EXAMPLE VIDEO FROM THE TRAINING
.