Yippie - Siemens NX 2007 - The new major release is here
!
We have already completed the training for the Siemens NX 2007 M-CAD highlights in this continuous release (incl. CAD secrets).
The major release Siemens NX 2007 was published in December 2021. Over 1000 customer requests were taken into account and incorporated into the new release during the last 6 months. In addition to some new features and tools in NX 2007, design and simulation are even more integrated than before.
In NX 2007, the option of displaying dimensions of rotated sections in the NX Sketch Solver as diameters has finally been integrated in response to popular requests from users. The user experience and search have also been improved. And NX uses artificial intelligence in many areas in order to adapt even better to your needs and your user behavior.
Half dimension for diameter
:
With this command you can change the display of a vertical dimension to the format of a one-sided dimension "half diameter".
OUR TIP: You won't find this trick in the official NX documentation. Through the "Convert to Half Diameter" function, a vertical dimension can be converted. After converting the first dimension, all subsequent diameter dimensions are also converted automatically. The order of the selection plays the decisive role for the type of dimensioning.
You can now find the complete video for our latest CAD Secret on YouTube!
What's New Siemens NX 2007? It explains some common workflows for creating and modifying sketches and introduces the brand new NX 2007 Half Diameter improvement! Also, some issues encountered since release have been fixed and are demonstrated in this video.
You and your team have problems with the new NX Sketch Solver?
After experiencing a lot of feedback and a few questioning faces on the subject of NX New Sketch Solver, we have launched a new training series. With the NX New Sketch Solver we will show you workarounds and solutions with which you will master the new Sketch Solver! Our goal is always to achieve even better results than before with the new features and innovations of the Siemens updates.
A list of all new features in NX 2007 can be found here:
And here you can download the new NX 2007 version:
>> Download NX 2007

The Command Finder has been replaced by a Search Tab. This means that search results can now also be filtered using tabs. You can choose between All, Commands, Customer Defaults, Preferences and Check-Mate tests. The results can be refined based on applications or specific information from the Discovery Center. This makes it easier for less experienced Siemens NX users to get started with the software.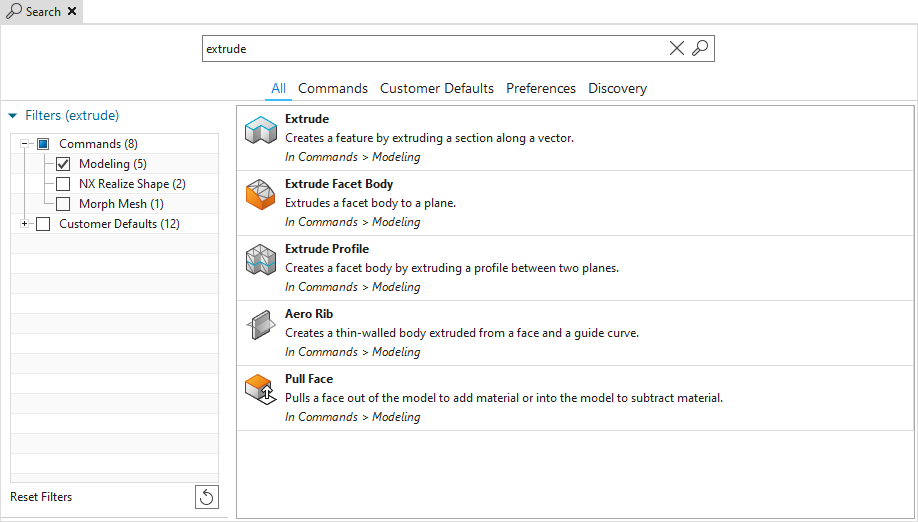 All innovations regarding the Sketch are part of our NX Continuous Update Training. There you will learn everything important about the last Siemens NX software update - regardless of your currently used version. But not only that! Trainer Simon attaches particular importance to showing you whole work processes so that you can get the most out of the software.
We also offer a complete training module on the subject NX New Sketch Solver. If you've been used to the old NX Sketch Solver for years, it will certainly not be easy for you to make the change at first. But that's exactly what we can help you with!
Select similar components
:
Not only the new Sketch Solver is supported by Artificial Intelligence. With the new command "Select Similar Components" you can search for and select new components whose shape is similar to a previously selected component. To calculate the degree of similarity between the selected components, NX uses an AI-assisted function. This new function is an alternative to traditional methods such as layers, reference sets and the assembly tree structure.
Then our NX Continuous Update Training is just right for you! We'll show you all the important new features of the last Siemens NX software update, seasoned with a serving of NX CAD Secrets. In addition to the actual update, the main focus is always on practice-oriented workflows. Every participant, regardless of which NX version they come from, learns how to quickly integrate the new features into their daily workflow. We ensure this through various user roles within the training. These can be adapted depending on the level of knowledge and work area. Nevertheless, all colleagues take part in the same training.